Boeing P-8A Poseidon
The P-8A Poseidon is the U.S. Navy's newest maritime, patrol and reconnaissance aircraft. A multi-mission capable replacement aircraft for the legacy P-3C Orion, the P-8A is designed to improve an operator's ability to conduct anti-submarine warfare; anti-surface warfare; and intelligence, surveillance, and reconnaissance missions. Additionally, it's combat-capable and provides warfighters added protection.
---
Museum of Flight
The Museum of Flight is dedicated to raising awareness of aviation and the important role it has played in shaping our nation's history. Air Show attendees can see three aircraft up close: Two T-28 Trojans that served in Vietnam and a C45-H Expiditor that saw service in Korea and Japan. All three aircraft tell a story. One of the T-28s, for example, was sold by the U.S. Navy to Honduras for only one dollar in 1969 and shortly thereafter downed an El Salvadorian P-51 during the 100-Hour War between Honduras and El Salvador. 
---
 

Lockheed 12A Electra Jr.



Joe Shepherd of Fayetteville, Georgia, acquired this aircraft in 1988 and spent the next 18 years lovingly restoring it to mint condition. His hard work paid off: Not only is it a joy to fly and display at air shows, it "co-starred" with Hilary Swank in "Amelia," the 2009 biopic about pioneering aviator Amelia Earhart.
---
Beech AT-11



The Army Air Force's AT-11, along with the Navy's companion SNB-1 Kansan, were advanced twin engine trainers that were used to train bombardiers, gunners and navigators during and after WWII. More than 90 percent of all of bombardiers in WWII trained in this glass-nosed version of the famous Twin Beech.
---
 Grumman C-1A Trader


This carrier onboard delivery (COD) aircraft is one of two warbirds owned by Columbus's Dr. Daniel Serrato. The Trader carried mail and supplies to aircraft carriers in the Pacific Ocean during the Vietnam War, and also served as a trainer for all-weather carrier operations.
---
North American T-28C

Dr. Daniel Serrato's Trojan was the proto-type "C" model, built in 1954, and the first to land on the carrier USS Tarawa, in November 1955. With the advent of jet aviation, higher-powered aircraft were needed to train new pilots and the T-28 filled that role well. The T-28 was used by the various branches of the U.S. Military from 1950 into the 1970s.
---
Brits in the Valley Car Club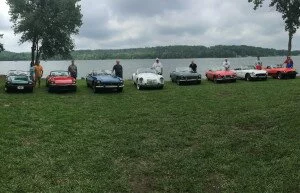 Brits in the Valley was established in 2015 after a few friends with vintage British cars recognized the need for such an organization in the Columbus area. The informal group has grown to more than 40 members throughout the Valley, representing more than 35 British cars. On a monthly basis, you can find this group either on a drive to Pine Mountain, wrenching on cars at a tech session, or attending a car show – such as this one in which their own vehicles will be on display at Columbus Airport!
 Acts scheduled to appear.