Aeroshell Aerobatic Team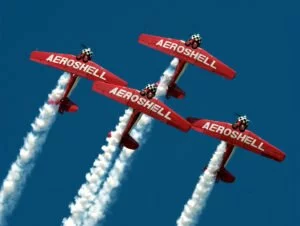 This quartet of North American T-6 Texans performs tight, awe-inspiring formation aerial maneuvers in front of millions of airshow fans all over North America. When the smoke comes on and those 600-horsepower radial engines roar, this act is a full-on dose of sensory overload.
---
Viper Airshows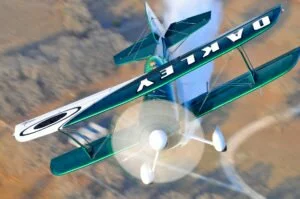 Jason Newburg brings his modified Pitts S2S biplane back to Thunder in the Valley for the first time since 2013. His high-energy performances in the "Viper" keep spectators on the edge of their seats, as does his low-level duel with the Dallas Riders motorcycle team.
---
Kent Pietsch Airshows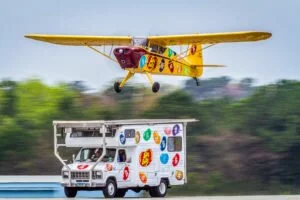 Veteran performer Kent Pietsch returns to Thunder in the Valley with his colorful "Jelly Belly" Interstate Cadet, a 1940s-era classic that he puts through a trio of routines, including a topsy-turvy comedy routine, an engine-out aerobatic performance and the always-impressive feat of landing on top of a moving RV.
---
The Class of '45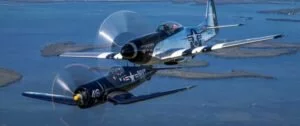 This high-speed tandem act features a pair of World War II fighters – an F4U-4 Corsair and a P-51 Mustang – paying tribute to the American aviators and support crews who helped seal the victory overseas.
---
Larry Labriola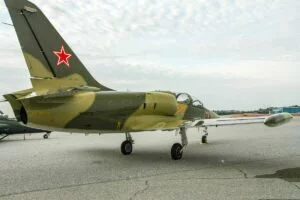 A long-time performer at Thunder in the Valley, Larry flies the Aero L-39 Albatros, a Czech-built, Cold War-era jet trainer and fighter. The Albatros is still used by many air forces as an attack aircraft for air-to-ground support missions and tactical reconnaissance purposes. Larry will demonstrate the L-39's capability with an exciting combination of high-speed passes and aerobatic maneuvers.
---
Army Aviation Heritage Foundation Sky Soldiers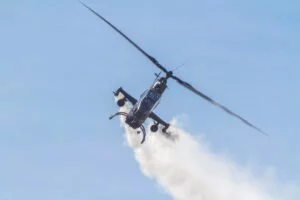 The Army Aviation Heritage Foundation (AAHF) is an all-volunteer organization dedicated to sharing Veterans' stories and demonstrating America's military legacy in flight. The Sky Soldiers will use their UH-1 Huey and AH-1 Cobra helicopters to reenact a Vietnam War-era scene, and will offer guest rides on the choppers.
---
U.S. Army Silver Wings Parachute Demonstration Team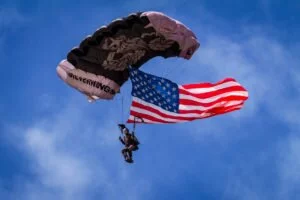 Formed in 1965 by the director of the Airborne Department, the Silver Wings represents the U.S. Army's Maneuver of Excellence Center (MCoE), 1/507 PIR Airborne School, in demonstrating the freefall and canopy accuracy capabilities of today's airborne forces. The Silver Wings will open the air show each day by delivering the American flag during the National Anthem.
---
Georgia State Patrol Aviation 
Division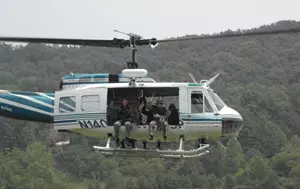 The Georgia State Patrol Aviation Division operates 24/7 to provide air support to the Georgia State Patrol and in support of public safety interest for the citizens of Georgia. GSP Aviation will demonstrate examples of its work, which includes everything from search and rescue operations to SWAT missions to fire suppression.
 Acts scheduled to appear.