Tips For Making the Most of a Day at Thunder in the Valley Air Show!
The Thunder in the Valley Air Show is a wonderful family event here in Columbus, GA. We strive to make it a fun day that is enjoyed by all. Please take a look at a few suggestions we have put together to make your family day at the Thunder in the Valley Air Show a great time! We have also put together a page full of frequently asked questions about the Thunder in the Valley Air Show – check it out!
Download the App: Available for iOS and Android devices, the Thunder in the Valley Air Show app includes news, photo galleries, alerts, "Fan Wall" and "Where Did I Park?" features, and much more. Download from the App Store or Google Play and you'll have an on-the-go guide at your fingertips throughout your time at the show.
Wear/Bring Sunscreen: The sun is very hot and bright on the flightline, so be sure to protect your skin and your children's skin with plenty of sunscreen. And don't forget to re-apply!
Hydrate, Hydrate, Hydrate: Be sure you are drinking enough water. If you are thirsty, that means you are already on your way to dehydration.
Make Sure You Eat: Just as important as hydrating, you must eat to feel your best. There are vendors all over the flightline selling all different types of food. If you need some extra cash, visit the ATM located between the concession and kids carnival areas.
Know Your Surroundings: Pick a meeting point for family members in case you get separated. There are plenty of spots on the flightline that can be easily identified by everyone. Also, make sure that you and your children know where the First Aid area is located. If you or your children get lost, go there and we will find your family. Listen for announcements on the PA system.
Bring a Blanket or Camp Chairs: Your feet will get tired from walking around the flightline taking in all of the sights. If you bring a blanket or some chairs, you can pick your favorite spot and sit down to enjoy the show. (Camp chairs and lawn chairs only, please – no lounge chairs will be permitted. And remember that all items brought into the show are subject to search.)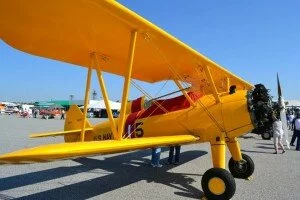 Listen to and Follow all Safety Instructions: These rules, such as "No Smoking on the Flightline," are for your safety! We want everyone to have an enjoyable time at the Air Show and we don't want anyone to get hurt. If you see anyone around you not following the safety instructions, please report it to an Air Show staff member or Airport Security personnel.
Know How to Get Help: If you or someone around you needs assistance of any kind, go to the nearest person in uniform or with Air Show credentials. If that person cannot help you directly, he or she will know where to get the help that you need. We have police, fire and medical personnel ready to help.
Most Importantly: Have Fun!!! The Air Show is a great place for family and friends to spend some quality time together. Sit back, relax and enjoy the show!