Skip Stewart

Like a streak of blazing lightning from an ominous sky, Skip Stewart blasts into view in PROMETHEUS, a modified Pitts S2S biplane that is sure to wow Thunder in the Valley spectators with a procession of gyroscopic, gravity-defying maneuvers. And Skip's performance is not only something you'll see – you'll also feel it, like a thumping, ripping drumbeat in the center of your chest. Get ready for one of the most high-performance, high-skill, high-adrenaline air show performances you'll ever see! Skip also will appear with Big Air Insanity – see below for more information on this high-performance Freestyle Motocross act.
---
Big Air Insanity FreeStyle Motocross Team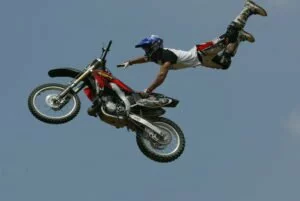 Showcasing some of the top Freestyle Motocross riders in the world, the Big Air Insanity FMX Team features a remarkable combination of athletic ability and X-treme stunt performances. Each rider soars up to 70 feet in the air, from a mechanical take-off ramp to a mechanical landing ramp, while crafting a show of daring stunt routines including The Bar Hop, Lazy Boy, Coffin, Pendulum, Stripper, Cliffhanger, Cordova, Whip, Double Grab, Indian Air, Superman, Sterilizer, Executioner, Rock Solid, Heart Attack and the heart-stopping finale of a jump over a moving airplane flown by Skip Stewart. Click here for a look at Skip and Big Air Insanity in action.
---
Chris Darnell and the Shockwave Jet Truck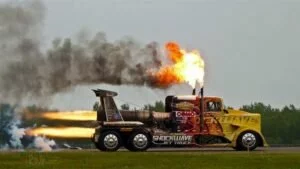 Air show veteran Chris Darnell is the driver – or perhaps "pilot" is the more appropriate term – of Shockwave, the world's fastest jet-powered truck. This custom-built monster is equipped with three J34-48 Pratt & Whitney jet engines sporting a combined horsepower is 36,000 – easily enough to propel it to speeds of more than 350 mph. Always a crowd favorite at air shows, Shockwave launches an all-out sensory assault – flame, smoke, heat, noise and don't-blink-or-you'll-miss-it speed that will leave you in awe. Watch this video for a first-person view from the cab of the Shockwave truck.
---
U.S. Air Force F-16 and Red Tail Squadron P-51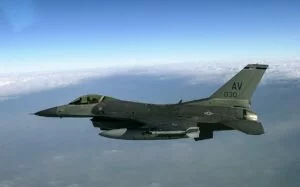 Spectators will enjoy a taste of World War II history and modern-day aviation technology when these two fighters – each a dominant force in its respective era – perform a formation flyover during the air show. The Red Tail P-51 also will be on display as part of the Rise Above Traveling Exhibit.
---
Grumman Northrup B-2 Spirit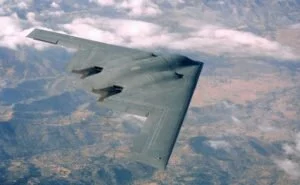 The U.S. Air Force's B-2 Spirit stealth bomber is a key component of America's long-range strike arsenal, and one of the most survivable aircraft in the world. The B-2 has demonstrated its capabilities in combat scenarios  including Operation Allied Force in Kosovo; Operation Enduring Freedom in Afghanistan, Operation Iraqi Freedom, and most recently, in Libya, during Operation Odyssey Dawn. A B-2 from Whiteman Air Force Base will perform a flyover of Columbus Airport during Thunder in the Valley on Saturday, April 8.
---
Greg Koontz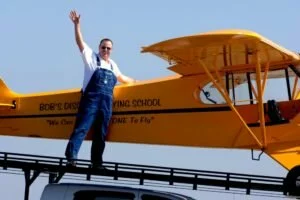 Greg Koontz has been performing in airshows since 1974, when he joined Col. Moser's Flying Circus and learned his trademark maneuvers from the best in the business. A veteran of more than 350 performances since then, Greg will showcase his versatile flying skills at Thunder in the Valley with two acts: A thrilling aerobatic routine in his American Champion Super Decathlon, and the hiliarious "Alabama Boys" comedy routine featuring wayward farmer Clem Cleaver in a 1946 Piper J-3 Cub.
---
Gary Ward
An air show veteran of nearly two decades, Gary puts his MX2 through a sequence  jam-packed with breathtaking gyrations that range from zero-speed hovers to dives in excess of 250 mph. The MX2 is so powerful that at the end of an inverted flat spin, rotation is stopped and the MX2 will fly out, inverted, without the nose ever dropping below the horizon. Gary makes full use of his aircraft's power and agility to perform many maneuvers that, as he says, "an airplane just isn't supposed to do." Click here for a ride-along view with Gary in the MX2.
---
Matt Younkin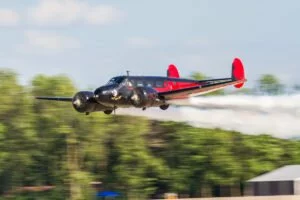 Matt Younkin's Beech 18 performance is likely the most unusual act – and definitely one of the most graceful – on the air show circuit today. This 1940s-era workhorse played a number of roles, including mail carrier, firefighter, military trainer and light airline transport. Today, Matt puts it through an aerobatic routine that its designers never conceived possible for such a large aircraft. As the Beech's twin radial engines roar and the aircraft makes its long, sweeping arcs through the skies above Columbus Airport, you'll see why this most unique of acts is a perennial favorite of air show audiences around the country.
---
Larry Labriola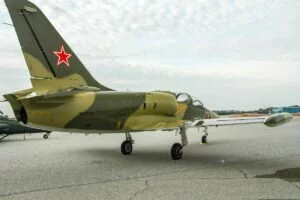 A long-time performer at Thunder in the Valley, Larry flies the Aero L-39 Albatros, a Czech-built, Cold War-era jet trainer and fighter. The Albatros is still used by many air forces as an attack aircraft for air-to-ground support missions and tactical reconnaissance purposes. Larry will demonstrate the L-39's capability with an exciting combination of high-speed passes and aerobatic maneuvers.
---
Army Aviation Heritage Foundation Sky Soldiers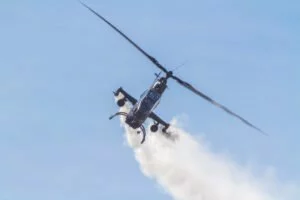 The Army Aviation Heritage Foundation (AAHF) is an all-volunteer organization dedicated to sharing Veterans' stories and demonstrating America's military legacy in flight. The Sky Soldiers will use their UH-1 Huey and AH-1 Cobra helicopters to reenact a Vietnam War-era scene, and will offer guest rides on the choppers. Ride fees (not included in the price of an air show ticket) are as follows:
Huey: $75 per person
Cobra standard (6-7 minutes): $325 per person
Cobra extended (13-14 minutes): $525 per person
---
U.S. Army Silver Wings Parachute Demonstration Team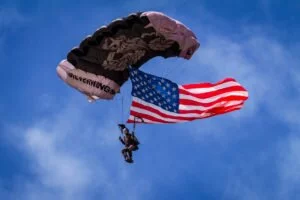 Formed in 1965 by the director of the Airborne Department, the Silver Wings represents the U.S. Army's Maneuver of Excellence Center (MCoE), 1/507 PIR Airborne School, in demonstrating the freefall and canopy accuracy capabilities of today's airborne forces. The Silver Wings will open the air show each day by delivering the American flag during the National Anthem.
---
Georgia State Patrol Aviation 
Division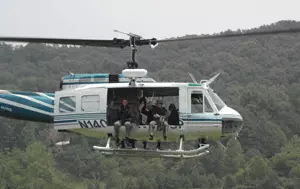 The Georgia State Patrol Aviation Division operates 24/7 to provide air support to the Georgia State Patrol and in support of public safety interest for the citizens of Georgia. GSP Aviation will demonstrate examples of its work, which includes everything from search and rescue operations to SWAT missions to fire suppression.
 Acts scheduled to appear.