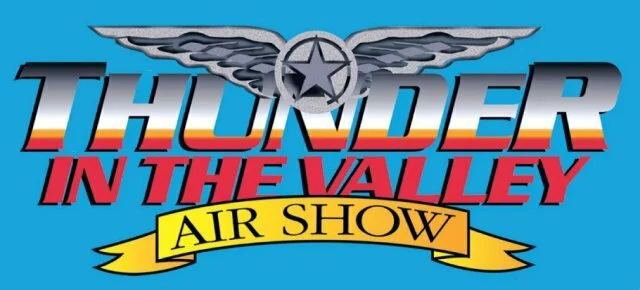 For Immediate Release
MEDIA RESOURCE GUIDE FOR THUNDER IN THE VALLEY AIR SHOW
This Media Resource Guide contains the following:
Background
Media Contact Information

Media Day (March 16)

Air Show Weekend (March 17 and 18)

o News Media Access and Assistance

o Credentials/ Show Information/ Request for Interviews

Scheduled Performers

Bob Essell Air Shows

The Flying Farmer Charlie Kulp

Elaine Larsen Jet Dragster

Fowler "Big Dog" Carey Lockheed T-33

Aeroshell T-6 Aerobatic Team

Gary Ward Aerobatics

US Army Silver Wings

HH-65 Dolphin

A-10 East Demonstration Team

Scheduled Static Displays

o NASA Kids Display

o Modern Military Aircraft

o Vintage Military Aircraft

Additional Public and General Information

Special needs parking

Parking

Tickets

Additional Activities

 

 
Background
The Thunder in the Valley Air Show (thunderinthevalleyairshow.com) is scheduled for March 17-18, 2007, at the Columbus, Ga. Metro airport from 10:00 a.m.-5:00 p.m.
The Thunder in the Valley Air Show is for the benefit of youth organizations in the Chattahoochee Valley. Past shows have provided support for more than 11,000 youth in the Chattahoochee Valley area. The air show is a fun, family-friendly event that is both alcohol and tobacco free.
Thunder in the Valley Air Show has been in existence for 10 years. The air show began as a local fly-in for aviation enthusiasts. Excitement from these shows grew into the largest outdoor family event in the Chattahoochee Valley area. The show brings in top performers from across the United States and has received national attention by the International Convention of Air Shows for excellence in marketing. For the last two years, Thunder in the Valley Air Show received first and second place awards for small market events.
Media Contact Information
Phaedra Childers
Marketing and Media Coordinator
706/442-7595
Media Day (March 16)
There are exclusive opportunities for the Media to meet the performers, historians, air crews and personnel before the show. Photo opportunities, plane-side and tank-side interviews and media rides can also be requested.
Media Ride Opportunities
During Media Day, a limited number of aerobatic rides by show performers are available. Rides are restricted to working media only and must be scheduled with Phaedra Childers, marketing and media coordinator, at 706/442-7595 by Wednesday, March 14.
All rides must be scheduled in advance; however, if time and schedule permits, a limited number of rides may be arranged on first-come, first-serve basis. All media must be prepared to provide your name, news organization, title and contact numbers (including day and evening).
Air Show Weekend (March 17 and 18)
News Media Access and Assistance
Notes to editors, reporters, camera people and photographers: For access, media should present their news organization identification at the Thunder in the Valley Media Check-In area. This area will be adjacent to the VIP/Media gates. Identification/credentials will be requested at the gate to gain access to the airport. If you need radio or live-truck access, contact Phaedra Childers, marketing and media coordinator by March 14 at 706/442-7595.
Credentials/ Show Information/ Request for Interviews
All media will receive air show credentials, upon arrival and presentation of identification at the Media Check-in area. There will be no Thunder in the Valley Air Show credential issued in advance.

Working news media must present identification from their news organization at the media check-in area to be granted access to the special flight-line, media-viewing area.

Media kits and the media relations staff will be available beginning at 9:30 a.m. on Saturday, March 17 and Sunday, March 18.

A definite and exact schedule for the aerobatic portion of the performances will be prepared and issued each morning of the event (no sooner), and will be available at the check-in area.

Interview opportunities with show performers, sponsors, military, government, VIPS and the show-production entity will be available through the media relations staff.
Scheduled Performers
Bob Essell Air Shows - Bob brings to the air show arena aerobatic skills unparalleled in the history of sport plane aerobatics.  You will be sure to be pleased not only by the team's amazing showmanship, but by their enthusiasm, charm, and high level of interaction with spectators and sponsors.
Bob Essell and Jenny Forsythe are the only father and daughter wing-walking team in the Nation. Bob was taught to fly by his father in the mid-1960s.  He began entertaining at air shows in the early 1980s, doing flight demonstrations, then moving on to solo aerobatics. He eventually added wing-walking to his act in 1990. His flying experience and credentials include: Level 1 unrestricted, solo aerobatics, wing walking, night pyrotechnics, a commercial pilot's license and flight instructor certification. With more than 25 years of experience in the aviation profession, Bob has assisted people in fulfilling their life-long dreams of flying.
Jenny is the fourth generation of Essells to take to the skies. Her great-grandfather parachuted from hot air balloons for audiences. Jenny was adopted as an infant, and eventually found her biological relatives in 1997, including her biological father, Bob Essell. After years of flying with Bob, Jenny joined his wing-walking act in 2003. Two years later, Jenny joined another wing-walking team, American Barnstormer, and was the first wing-walker to perform professionally on both a monoplane and a biplane. Jenny enjoys inspiring youth at air shows, showing them that even those with low self-esteem can grow up to do extraordinary things.
http://www.bobessellairshows.com/
Bob Essell Air Shows, (330) 612-2561, [email protected].
The Flying Farmer Charlie Kulp - Charlie Kulp, aka Silas "the Flying Farmer," has demonstrated his "inability to fly" more than 800 times during his storied airshow career. In addition to performing his routine every Sunday at Virginia's very own Flying Circus Aerodrome airshow for the past 35 years, Charlie has averaged 36 performances a year for the past 12 years, demonstrating his skillful aerobatics to thousands of adoring fans.
When asked how much he practices, he replies, "Practice? And ruin my routine?" A good sense of humor and a little yellow plane have helped this bumbling farmer create thrills and laughter for over three decades.
http://www.theflyingfarmerofvirginia.com/
Charlie Kulp, 540-439-8526.
Elaine Larsen Jet Dragster - Elaine Larsen, driver of the Embry-Riddle jet dragster and the Miss Ta Fire jet dragster, has over a decade of drag racing experience.   She attended her first drag race at Mid Michigan Motorsports Park and saw the jet funny car, the Lava Machine, never thinking that 20 years later that would be her.  
The first time she went down the track in her big block, Chevy powered, Super Gas car, she was hooked. After racing 6 years in NHRA Division 2, they new that it was time to step it up. She then licensed in Super Competition which she raced for 2 years.  

The Miss Ta Fire rolled into action in January of 2004.  Elaine right off the bat
loved the feel of the car.  With 6000 horsepower, Elaine has for the moment
fulfilled her need for speed.  

http://www.lmsjets.com/
Elaine Larsen, [email protected].
Fowler "Big Dog" Carey Lockheed T-33 - "There is nothing better than spending a weekend with kids of all ages that love aviation. The first time I saw the world upside down at 100' AGL & 500 mph, I knew I had to be a player!"
This particular T-33 was one of the last manufactured and was in service with the USAF from 1958-76. In 1976 it was MAPed to the Yugoslavian Air Force where it served until 1986 when it was sold into private hands back into the US. In 1990, Fowler's former partner, the late Randall Hames, purchased the T-33 while it was still disassembled. After an extensive 2 1/2 year restoration, the airframe and engine were totally overhauled, and the distinctive USAF Thunderbirds paint scheme added. Fowler & Randall began campaigning the airshow circuit in 1993 as Vintage Thunderbird in their Lockheed T-33A.
Airshow Routine (20 minutes at 500 mph with surface unlimited waiver) includes high speed pass w/2 climbing aileron rolls, Cuban 8 with roll on the 45 degree down line, four-point roll, four inverted pass, roll reversal, three linked aileron rolls, knife-edge pass, loop, and arching photo pass exposing canopy to crowd line.
www.ccminc.com/vintage/index.html
Fowler "BIG DOG" Cary, Jr., 803-254-9500, [email protected].
Aeroshell T-6 Aerobatic Team – A formation aerobatic team flying the WWII North American Advanced Trainer, the aircraft that launched thousands of American and Canadian cadets on their careers generations ago, now thrill audiences everywhere as the pilots who make up The Aeroshell Aerobatic Team take these valiant old birds through a series of precision formation aerobatic maneuvers. The Team combines the skill, competnse and flair fo these pilots with the roar and billowing smoke of the powerful 600 HP Pratt & Whitney engines. Performing a series of precision formation aerobatic maneuvers, including their bomb burst, vertical rejoin, avalanche, the breath-taking "Switch Blade" along with graceful loops and rolls. The Team will bring a lump to your throat and a tear of remembrance to your eye.
http://www.naat.net/
Jennifer Henley, (205) 822-9161, [email protected].
Gary Ward Aerobatics
Gary became involved in aerobatics somewhat by accident. In 1995, he bought a wrecked Pitts S2-B and had it rebuilt. After the initial checkout, he started learning more advanced aerobatics. After flying the Pitts for a couple of years, he acquired the exciting Giles 2002, which he has been flying and performing for over six years. He is in his eighth season of flying air shows. Gary has flown over 200 air show performances at 60 air shows during the last seven years.
http://www.garywardaerobatics.com/
Gary Ward, (706) 318-4418, [email protected].
US Army Silver Wings - Silver Wings are the official Fort Benning, Georgia, Command Exhibition Parachute Demonstration Team.
The Silver Wings is comprised of Soldiers from throughout the Fort Benning airborne community. They have diverse backgrounds and various military specialties. The average age is 33 years old and the average number of free fall jumps range between 200-2500 per team member. The team represents the professionalism and dedication of the specially trained Soldiers that are products of the United States Army Infantry Center and Schools, to include Airbone, Pathfinders, and the Army elite Rangers.
https://www.infantry.army.mil/silverwings/index.htm
Silver Wings Team Leader, (706) 545-2761.
ACC East Coast A-10 Demonstration Team - The A-10 Thunderbolt II Demo Team performs precision aerial maneuvers, demonstrating the unique capabilities of the Air Force's premier Close Air Support aircraft.  ACC's A-10 Demo Team Members also exhibit the professional qualities the Air Force develops in the people who fly, maintain and support these aircraft.
The A-10 Thunderbolt II Demo Team is located at Pope Air Force Base, N.C.  The team is comprised of the demo pilot (Captain Jeff "Roadie" Yost), a maintenance team, ground safety observers and narrators.  The aircraft is one of the operational fighters from the 23rd Fighter Group at Pope AFB. 
Said USAF Maj Mark Temple, "When we are flying at an air show, we bring our teams in advance to interact with the community for several reasons: to positively affect recruiting and retention; to keep people informed about military preparedness; to demonstrate the tactical capabilities of the A-10 Thunderbolt II; to promote community relations; and to demonstrate our professional competence enhancing the public's understanding of Air Force capabilities.
These fighter pilots and their crews defend our freedom all over the globe, currently in the U.S., Iraq and Afghanistan. At the Columbus Air Show, the Demonstration Team will be performing a number of aerobatic maneuvers designed to show the American public, the capabilities of not only the aircraft, but also the incredible execution of dedicated, courageous airmen."
http://www.af.mil/factsheets/factsheet.asp?id=70
Maj. Mark Temple, Media Coordinator, ACC Demonstration Teams, (757) 846-5781, [email protected]
Scheduled Static Displays
NASA Kids Display - NASA is presenting a new, interactive traveling exhibit called The Vision for Space Exploration Experience that allows visitors to view the stars and other planets without having to leave the confines of the Earth.

The new exhibit trailer includes a 'cosmic waiting area' where visitors will learn what they will need to travel to the moon and Mars. After the 'training session,' video screens display virtual models of the moon and Mars, allowing visitors to learn about their surfaces, the history of NASA's research on each of them and future plans for exploration.

The trailer also features a hexagonal theater that introduces visitors to NASA's plan to return to the moon to create a working environment that will help ensure safer, more effective future exploration further into the solar system. Highlighted are NASA-inspired technologies that have led to the improvement of the quality of life on Earth.
NASA experts will be available to answer questions and discuss some of the 30,000 technologies used on Earth as a result of NASA's years of space-based research and development. Exhibit visitors can learn how tomorrow's lifestyles will change as NASA develops advancements in power, computer technologies, communications, networking and robotics. Visitors also will see how other advanced technologies will increase safety and reliability of space transportation systems, while also reducing costs.

Touring the exhibit, which is wheelchair accessible, takes approximately 15 minutes and can accommodate up to 128 visitors each hour. The new exhibit enables NASA to provide information about the Vision for Space Exploration throughout the nation at as many as 50 events annually, potentially reaching millions of Americans nationwide.

http://www.nasa.gov.
Michael "Kirk" Pierce, .
CH-46 Chinook
CH-53 Sea Stallion
AH-64 Apache
OH-58D Kiowa
T-28 Trojan
C-130 Hercules
B-25 Mitchell
P-47 Thunderbolt
P-51 Mustang
TBM Avenger
D-17 Stagger Wing
C-17 Globe Master III
T-33 "The Red Knight"
SNJ Cpt. Joe Fagundes
Cessna Mustang Jet
Cessna Gran Caravan
Cessna 182
Army Ambulance
Army Hummer
Vintage Army Jeeps
V-22 Osprey
 
Bradley Infantry Fighting

Vehicle

 
Additional Public and General Information
Special needs parking
Parking is available for persons with special needs near the VIP parking lot. Parking cards should be displayed, so parking volunteers can direct them to the correct parking area.
Parking
Limited parking available at the airport. The cost is $10 per vehicle. Parking is also available at Walmart (Airport Thruway) for $5 per vehicle and free parking at Columbus State University (includes shuttle service). For safety concerns, "no parking" rules will be enforced on Airport Thruway and Moon Road.
Tickets
Tickets are sold per day, so attendance both days would require two tickets. The air show is scheduled rain or shine. There will be no rain dates and no refunds.
At the gate – $ $10 per day

In advance – $8 per day

World Omega Travel Agency, Ft. Benning, Ga. – $5.50 per day

Children 5 and under – Free
Advance tickets are available for purchase at the following sponsored locations:
Neighborhood Boy Scout offices
Alltel offices
McDonalds in Columbus, Ga. and Phenix City, Al.
Wachovia Bank branches in Columbus, Ga., Pine Mountain, Ga., Hamilton, Ga., Ft. Benning, Ga. and Phenix City, A..
Additional Activities:
Concessions

ATM availability

Infantry Weapon and Warbird Restoration displays

Flight simulators

Carnival fun area

Helicopter rides

Airplane rides